A perspective on the San Francisco earthquake, 1906
A Spotlight on a Primary Source by Silas Mack
At 5:12 a.m. on April 18, 1906, a great earthquake broke loose, with an epicenter near San Francisco. Violent shocks punctuated the shaking, which lasted some 45 to 60 seconds. The earthquake was felt from southern Oregon to south of Los Angeles and inland as far as central Nevada. The city was then destroyed by a Great Fire that burned for four days. Hundreds, perhaps thousands of trapped persons died when South-of-Market tenements collapsed as the ground liquefied beneath them. Most of those buildings immediately caught fire, and trapped victims could not be rescued.
A recently discovered account of the 1906 earthquake in San Francisco written by US Commissioner Silas W. Mack vividly describes the devastation, with 700 lives lost and a city left in shambles. Accompanying Mack's solemn letter is a proclamation stating that law enforcement was "authorized [by the city] to KILL any and all persons found engaged in Looting or in the Commission of Any Other Crime." This broadside, issued by San Francisco Mayor E. E. Schmitz, exemplifies the mass hysteria that occurred following the quake.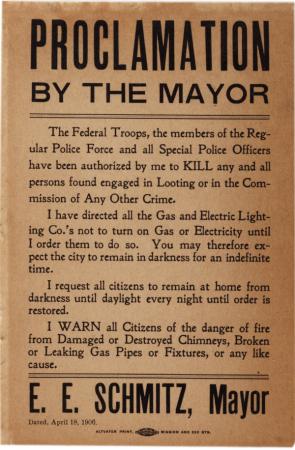 The 1906 quake was the most destructive earthquake on record in North America until the earthquake in Haiti in 2010. The San Francisco earthquake and the fire that followed left approximately 250,000 people homeless, destroyed 25,000 buildings and resulted in an estimated $350 million in damages.
A full transcript is available.
Excerpt
Silas W. Mack to Clara W. Mack, April 20, 1906:
Wednesday, April 18th. will go down in history as the date of the most terrible calamity the United States, and particularly California, has ever known. I do not feel much like writing about it. Would feel better if I could cry but I cannot.
We were awakened at 5:15 A.M. by the shock of the earthquake. There have been several since I have been in California but only two before this were sufficiently pronounced so that I remember them. They did no damage. This one was much more violent even here and was accompanied by a dreadful rumbling noise and roaring, not particularly loud but coming as it were from mighty forces at war in the distance. The house swayed back and forth, it seemed quite a while but I think not more than [inserted: 2]5 seconds, then with a sudden wrench stopped. I had gotten out of bed and rushed to the front door but it was so foggy outside that I could see nothing, the first fog of the season. The shocks continued throughout the day but were so light frequently as to be hardly noticeable. There was not the least damage done in the house and no dishes, vases or anything breakable hurled to the floor. And this was the general experience in Monterey and Pacific Grove.